These days, your website says more about you than you might think. Some people don't realize that your digital property actually conveys information about your business in other ways that words cannot.
Your prospective clients have multiple options, yet you only have ONE chance to make a lasting impression. You only have one chance to make an impact on them so that you can be top-of-mind when they decide to do business with you. If your website fails to make the right impression, you risk missing out on the high-quality leads necessary to grow your company.
Every day, the average individual is bombarded with information, and your company website is the first impression they receive, regardless of how accurate it is. Consider driving past storefronts of two competitors with comparable prices. One appears to be great, new, and clean; the other appears to be drab, old, out of date, and cold. Which store would you patronize?
This blog discusses the top 8 reasons why your business needs a website to showcase your brand, regardless of industry.
Why Your Company Needs Its Own Website
1. Your Potential Customers Expect It
Believe it or not, yes, even your not so technology-savvy customers want you to have a website where they can learn more about your overall brand. As for you, this can boost your digital marketing as your website may assist you in generating business, increasing brand recall value, promoting goodwill among clients and target audiences, and delivering a compelling marketing message.
Consider this: everyone has a mobile device, and most internet searches are done on the phone. If the site is actually responsive, and the functionality is working properly, your website will be delivering your marketing message 24 hours a day, 365 days a year. Your business is always being judged and ranked against your competitors.
Apart from e-commerce sites, the majority of websites are informational in nature and seek to ease visitors' pain points.
2. Showcase Customer Testimonials
Customer behavior is primarily influenced by what others say about your products and services. Regardless of whether your brand has a 5-star rating on review sites such as Foursquare or Yelp, customers would still search and visit your website for additional information. Since potential consumers are already searching for you online, putting reviews on your home page is an excellent approach to impress them and provide social proof.
3. Take Charge of the Narrative
While it's tough to control what others say about you, you can affect how others see your brand by publishing your own story online. When it comes to spreading a brand's message, vision, and objective, a website is significantly more effective than print ads, billboards or snail mail brochures.
According to SEO Tribunal, Google processes 5.6 billion queries each day and 63,000 searches every second. Consider that with that volume of searches, there may be someone online right now looking for your specific service.
Guess who will get the positive reviews if you don't have a website? Certainly not you, because there is competition next door which has an attractive, search-engine-optimized website.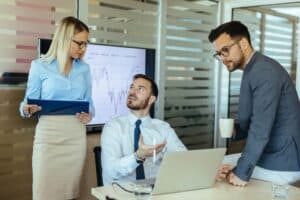 4. Increase Your ROI
A website is not build for you, but should serve you. In the digital era, building a website using free tools such as WordPress.com is not only affordable but also gives the best value for money. A search-engine-optimized webpage enables you to gain traffic without investing a fortune. It can assist you in reaching a broader target audience so you can promote your services or products. Regardless of the type of industry, using the right keywords properly in your content has an impact on http://WordPress.com Google search ranking (SERP's), purchase decisions and commercial transactions.
5. Boost Your Company's Credibility
If you want to demonstrate to the world that you are serious about your small business, it's time to invest in a professional website. Without one, you risk losing trust in an age when more than half of smartphone users discover new small businesses or products while searching on their phones. According to research, 75% of online users accept judging a business's legitimacy based on the website design.
Finally, most people are likely to spend time with, and engage a company they trust, and the website serves as the first step toward developing that relationship.
6. Increase the Amount of Constructive Conversations
The website is your platform for answering all basic queries about your business and service that potential clients may have. This is especially true for marketing organizations that specialize in business-to-business (B2B) marketing. When visitors go to your website, they are looking for answers to basic queries such as what you do, what products or solutions you offer, your physical location, and contact details. Once they are satisfied with everything — including assessing your website's design — they'll decide whether or not to follow up. Just remember that when providing such information, keep it basic and concise, as today's consumers seek instant gratification.
7. Declining Social Media Reach
If you believe that just having social media networks is sufficient to attract new customers, you are mistaken. It is not enough to have a Facebook page, as virtually every other business does. According to Facebook, users spent 50 million fewer hours on the social network in 2018 than the previous year. As a result, more companies are now creating sites rather than depending solely on social media platforms. While they have the potential to boost companies, relying only on them can be a costly mistake in the long run.
Remember this, shoppers are on Facebook, buyers are on your website.
8. Advertise Your Offers
It cannot be emphasized enough that a website is your target audience's initial engagement with your service. Your business' positioning is entirely up to you. Moreover, you can display not just the characteristics of your special offers but also provide brief video tutorials or downloadable PDF instructions. You can also emphasize your achievements, testimonials, and any features that reduce your traffics' trouble concerns. This boosts your audience's average time spent on your website and may influence their decision to reach out to you.
Create A Web Design That Attracts Your Target Audience Today
Having a professionally designed site is crucial for generating sales, improving profits, and increasing your advantage. It enables you to reach the appropriate target demographic with your site. Additionally, building simple websites cost pennies and may yield huge returns in the long run.
That said, instead of questioning why your business needs a website, think of how good of an investment that is!