Your blog content is a tool to expand your brand, and give your readers a deeper insight into the topics that your business or website specializes in. When you create content for a blog post with the intent to satisfy online users, you will eventually rank higher in search results and can support, or break your SEO strategy.
With value-packed content written for search intent, you can improve your SEO success and brand visibility. You can't pump up the sales if people can't find your business. The best way to gain brand awareness and increase your leads is by investing in a good blog content marketing strategy.
Attract High-Quality Leads
Content has always been king. The only way to attract and keep the attention of a high-quality audience is by answering questions, and providing value on a particular topic.
Blogging is pivotal to warm your leads so they'll be happy to open their wallets and buy because they have already made up their mind about the purchase. This is how blog posts do magic for your business.
Blog SEO is one important content marketing strategy to implement in your business. Blogs comprise helpful and informative posts online on a particular topic that is within your niche or industry. When you blog and share your expertise on a subject matter, relate it to your offer or products and services, target customers begin to recognize and associate your brand with their needs.
Consistency and quality in blogging help you get recognized by Google and search engine algorithms. It's instinctive for Google to provide its users with quality information that meets their needs. So, if your website provides fresh and informative content, then Google also rewards you with a higher ranking in SERPs.
Increase Brand Visibility and Authority
There are millions of searches done on Google every single day. However, depending on your niche, there are also millions of brands that compete for buyer attention every millisecond. You all compete for target keywords.
So, how do you cut through the noise? How do you stand out? This is where website ranking matters the most.
Keyword research is fundamental to content marketing. Know for a fact that people make a Google search mostly to find solutions to a couple of pain points. Your objective then is to provide valuable information or solutions to these nagging problems.
You have to be their go-to brand that comes on top of mind when they hit the search bar.  Your goal then is to utilize organic search results to attract website traffic with voluminous and quality leads.
Search engines like Google process the content of every website. From the blog title, meta descriptions, title tag, URL structure, and internal and external links – all of these define your on-page SEO. This is referred to as search engine crawling. Once your website content has been thoroughly scanned, you can expect more indexed pages.
It's important for your keyword to be placed in the blog post title and also the meta description. Your website pages are properly categorized and then ranked based on their relevance to website visitors and the quality of internal links. With that being said, your blogs need to use specific keywords that target more search queries and provide content that your visitors would find extremely helpful.
Once your blog pages are able to effectively satisfy the needs of your audience, then your website will be categorized as a reliable and trusted resource online. This would ultimately increase your ranking in search engines. When you optimize your blog, you gain more visibility, reach a wider audience, and increase web traffic.
Customizing your blog article to fit the needs of your target audience will help you get amazing search engine results in no time.
Target Niche-Specific Keywords for Search Engines
Basically, SEO or Search Engine Optimization is the ability to understand particular products, services, or topics that people are searching for online. More so, it elaborates on important ranking factors such as the use of a keyword phrase or related keywords entered into search engines making it more SEO-friendly.
Now, with the right blogging strategy, you can use that data to create valuable content for your website that search engines would love to crawl into. With proper SEO implementation, your search ranking improves over time. You can use question-based keywords so Google pulls more quality leads to your website.
In this way, you can target a particular group with your content and rank higher because there is a ready and hungry market searching for that information. With that in mind, you increase sales with ease. Always look at everything as an optimization opportunity.
Internal linking or link building to other pages is key to it. Optimizing with the use of relevant keywords or key phrases as well as long-tail keywords that you can link within different pages of your website and also with other websites, you optimize your business for SEO. One of the many golden SEO tips is to be careful to avoid keyword stuffing.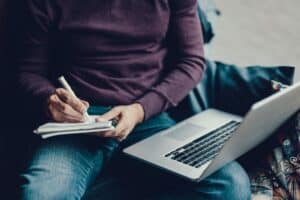 Keeps Your Blog Content Fresh and Current
You can't create or build a website and just leave it dormant for months or years. It speaks volumes about your credibility. If your company website seems inactive then it also impacts the trustworthiness of your brand. In fact, people would even wonder whether you're still in business.
Without fresh content, your search engine rankings also suffer or drop tremendously because search engines will detect that you are not providing helpful information to users and will leave you out of the search engine results.
For Google and other search engines to recognize you as an industry authority or valuable resource, it's a must to keep your website active with current blog posts and also to optimize existing images that can help with search rankings.
A few reasons to keep your content up-to-date is the fact that Google will never promote an outdated business. Give search engines more reasons to index your web pages with ongoing updates and fresh blogs. It helps strengthen your SEO and your authority and relevance in the field.
Enhance User Engagement and Connection
User experience is a plus point with SEO works. If your website provides an enjoyable and satisfying user experience, then you will appear higher in SEO results and gain more traffic. Be creative with your blogs and add optimized images or videos so you have a more easy-to-digest blog section that people will love to consume. You can also include related topics.
Blogs that are made visually appealing and with engaging content are an important ranking factor. It also helps if you have SEO mobile-friendly results. The goal here is to build a connection with your audience.
Humanizing your brand is an important SEO factor to rank high. You can track the performance of individual blog posts using any SEO plugin or Google Analytics. The longer a user stays on more pages of your site to consume content, the better business and search engine rankings you have.
Ready to UP Your SEO Game?
Investing in your content is a must if you want to improve your SEO and digital marketing strategy. At Direct Allied, we help you pivot all the way up with a well-defined and crisp SEO strategy that is custom-fit for your brand. We have a high-performing team of expert content marketing specialists who can take your blog posts from so-so to stunning in no time. So, are you ready to UP your SEO game? Contact us today!