When it comes to choosing the best way to build websites, you'll surely come across countless combinations of CMS, plugins, themes and extensions to develop them. Sure, there are plenty of ways this can be achieved, especially if you're building a WordPress site. The biggest challenge is distinguishing one dedicated block editor from the other and what features they posses that sets them apart.
In this article we will focus on the native WordPress block editor, Gutenberg, which became a part of WordPress 5.0 in 2019, taking the place of the previous classic editor. This is a much improved, user friendly method of content creation for managing posts and pages using nested blocks.
This new plugin is the default content editor for WordPress. It capitalizes on using a block inserter interface to make websites without the need for a code editor.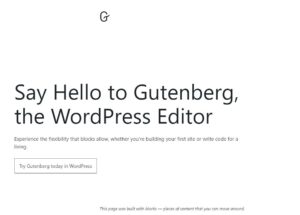 Gutenberg: The New WordPress Block Editor Replacing The Classic Editor
Gutenberg is a block editor that makes it simpler and easier to post content because the content blocks allow for precision, accuracy and proper alignment when posting.
What Are Blocks?
Blocks are pre-formatted content elements that form sections of a website page. Using drag and drop functionality, developers can easily place text, images, videos, blog carousels, galleries and more into the web page with a simple mouse click.
The WordPress platform using the Gutenberg plugin will give you various default blocks in its block inserter. These include group blocks, dedicated blocks, built in block patterns, and ability to customize all the blocks in your WordPress dashboard. Block settings are also available to help you make your Gutenberg project fit your branding. Along with many other WordPress plugins, you can almost automatically create a website quickly.
What Is The Advantage Of Gutenberg?
One of the most obvious main advantages of Gutenberg is that it's a native application offered for WordPress websites. With this, you can insert blocks that are pre-built for most web development needs. You can even create your own blocks, or make a custom block for custom post types, and rearrange blocks as you please.
WordPress users no longer need to be coders or hard-core developers. Literally anyone can create a new website by simply dropping content, images, and other elements from their media library directly into the page. The best thing is, every paragraph block, lists, quotes, heading, image, columns block, button block, widgets, and embeds are all editable.
Third-party developers can also create blocks to help simplify complex layouts, thereby adding more to the customization of a WordPress website. But you must know that the Gutenberg editor is not just for content. It aims to become software used for full site editing. The basic idea is to use Gutenberg as the only software you need to design, customize, and edit the whole website.
The History Of Gutenberg And The Company That Launched It
According to Matt Mullenweg, WordPress Founder,
"The [Gutenberg] editor will endeavor to create a new page and post building experience that makes writing rich posts effortless, and has "blocks" to make it easy what today might take shortcodes, custom HTML, or "mystery meat" embed discovery."
Before being a core app in WordPress, Gutenberg block editor was once a humble plugin. But that is not to say that it has reached its peak potential. It is still being developed and is updated weekly.
Since the roll of WordPress 5.0, it has been the default editor for the CMS. The release included a major overhaul of the post and page editor.
Gutenberg's editor represented a departure from the previous way of managing content on a website blog and the website as a whole. Its release was so astounding and controversial that there have been many debates about it. Many old school WordPress developers didn't take too kindly to a new editor iteration, and the eventual replacement of the well-known (but not always so loved) classic editor.
At the end of the day, the WordPress core team want non-coders to have a simple way to produce websites themselves. This block editor also makes it so users can see what is displaying on the website's front end while working. All the essential WordPress blocks are ready to use, and being able to utilize a reusable block is simply clutch. Site editing has never been so simple.
Gutenberg Improves A WordPress Site's Speed
It seems that Gutenberg has speed in its core principles. Aside from helping speed up the process of creating websites, there has been plenty of proof that it helps improve the user interface by making the site itself faster.
Those using the Gutenberg block editor instead of the classic editor have a decreased need for third-party plugin usage, resulting in a significant increase in site speed because of the lighter HTML code structure. Aside from lowering the barrier for entry to creating content, and empowering almost anyone to carve a space online, using the WordPress editor also helps improve SEO performance.
The light HTML structure generated is reduced to a minimum which helps make the site load faster. This is especially beneficial for eCommerce websites because it has a direct influence on conversion rates. Another benefit of faster site speed has something to do with SEO which we will discuss in the next section.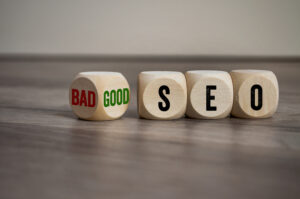 Gutenberg For SEO: Good Or Bad?
Anyone familiar with formulating an SEO strategy will say that site speed is one of the most important Google ranking factors. It has a dramatic impact on SEO and bounce rate.
Bounce rates are the number of single-page sessions of zero-second duration divided by the total number of page sessions on your website. A high bounce rate usually means people do not wait for your website to load before leaving.
Various factors contribute to a slow website: unoptimized images, large files, web host inefficiency, slow-loading apps like Flash, and overly complicated themes and designs.
After Gutenberg 10.1 was released, it was given features that complemented the Google Core Web Vitals. There have since been countless reports of increased speed in websites that used the block editor.
This update minified the styling code and only selected parts of the code necessary for the particular page. It also did away with downloading extensive design code already present on the page.
The result was a 20%-50% improvement across core web vital metrics for websites after using the new WordPress block editor. Those statistics make it hard to argue against using the Gutenberg editor.
Gutenberg WordPress Editor Themes
One of the benefits of using the built-in WordPress block editor is the number of themes you can use. You may be wondering, aren't other block editors offering the same options? Yes, essentially, they are the same. But that's where the buck stops.
As similar as they are in themes, integrating with WordPress makes themes respond faster and virtually makes every theme WordPress friendly. Themes that are compatible with other builders (like Divi), are usually compatible, and much easier to navigate with the Gutenberg editor.
Gutenberg Templates
The main purpose of templates is to make life a lot easier for those who need to create websites with increasing quantity. Understanding block patterns and page builder plugins can help you create content and websites quickly.
Templates are found within themes, and you can modify them to fit the customization you are looking for to match your vision for your website or brand.
With a template, you can adapt the design and layout of the demo, as well as any main theme styles you like to your WordPress sites. The default block editor makes it easy to move sections around and insert any individual block wherever you'd like, while maintaining the theme's design.
Take note that modifying a block template will save it instantly as a custom block template. You can also make your own block, group multiple blocks, quick insert blocks, insert an image block, and configure block patterns. You can make your WordPress site according to your vision.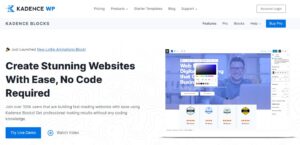 Kadence: A Great Start For A New Editor
Kadence is a free WordPress theme that's been lauded by many developers because of how it makes editing websites and adding content via Gutenberg editor a lot simpler. This theme is becoming the go-to foundation for building sites in Gutenberg.
Installing the theme is pretty straightforward. But don't let its simplicity fool you. It is feature-packed and has a lot more to offer to anyone looking to make their websites function well and look one-of-a-kind.
You can enhance your experience with Kadence by purchasing the pro version, but you will still be able to create a good website with the free version.
This theme features six different sections that all add up to customizing your website. These include global colors, branding, typography, header layout, page layout, and footer layout.
Using Global Colors, you will be able to change the color theme of your website. There are built-in colors to choose from, but you can also set a custom color scheme for your site.
You can set two accent colors, multiple text colors, and background colors to make your website match your branding. Colors add a lot to make your website look familiar, and with the way that Kadence mixes colors, you will have plenty of good choices.
Branding is the placement of your logo and how it will be shown to your audience as they browse your website. This is important because it will help remind your audience of your company name and what you stand for.
Typography plays a huge role in making a good impression. Fonts matter. In this theme section, you can choose which font you will use for your entire website. Choose the one that compliments your brand. You can also set a different font for headings and breadcrumbs. You can also set the size and weight of your fonts for each.
The Header Layout is an important feature of Kadence. It gives you the ability to design your header so that you can customize your website even further.
Two tabs can help further customize your heading block: general and design. The general tab is the overall control of what you want to see in the header. It has a drag-and-drop functionality, so you can easily put anything you want on your website. The design tab will help you control the header background color and the breakpoint for switching to the mobile header.
Page Layout and Footer Layout are very useful tools which set block patterns that can be utilized on each page of a WordPress website. Like the header layout, these also have general and design tabs to control what you want to see on the page.
You can also use plugins on Kadence with some extra features for the pro version. If you want to get started on the WordPress Gutenberg editor, you might as well start with Kadence to navigate and learn about the block editor more easily.
The Future Of Gutenberg
The question is: can Gutenberg become the future of publishing? Can anyone go from just a content editor to a web developing wizard?
That may be the case, but it won't happen as fast as you think. A full-fledged web developer will have more specific skills that will allow them to make a website quite differently than what a beginner or someone with just relatively average knowledge has.
Gutenberg blocks are not new technology and have been used for several years now. However, it is a great opportunity to introduce a new WordPress editor for those who want to learn how to edit and customize their website or for an experienced developer to see if this is a hack to help speed up their process.
Even if Gutenberg is live and many developers and marketers are using it to make websites, as constant updates show, it has yet to reach its potential. It is important that companies, agencies, and even individuals soon look at how they can integrate it into their processes.
FAQs
Is Gutenberg Better Than Elementor?
Both block editors have their own merits. It all boils down to the user's preference and what they are willing to compromise since both builders have unique features. It is a significant upgrade from the classic WordPress editor and typically uses far fewer plugins and customization than Elementor.
Is Gutenberg For WordPress Free?
Gutenberg editor comes free with the WordPress core features. The great thing about this is that you can use it using WordPress.com or WordPress.org. You can utilize its many features and enjoy its benefits.
Is Gutenberg A WordPress Page Builder?
To be clear, Gutenberg is the default block editor for pages or post-editors. It has replaced the WordPress classic editor. It improved its user interface and experience, so people naturally gravitated toward the new tech.
Summing Up
The Gutenberg WordPress editor is not just a fancy way of making new websites. WordPress integrated it into their CMS and made it their default editor to encourage people to use the Gutenberg editor.
They changed and improved a lot in its interface and made it especially simple so that it can be an effective means to welcome people into the world of editing and customizing websites, and speed up development time for more seasoned web agencies.