Your website is one of the essential tools you have to simplify the sales process, and it is your tireless salesperson who drives prospects deeper into your sales pipeline.
A company's site could easily be considered its best salesperson working 24/7 to promote and sell products or services. That's why it's a game-changer to have a well-designed and informative website.
Websites are no longer just an optional part of doing business. In today's world, it is the main component of your sales arsenal to exponentially grow your brand- and this article will tell you why.
Your Website Represents Your Brand
It's worth noting again that your business website should be treated like your best salesperson. It is the face of your business, and the very first impression that your target audience will have of you.
Potential customers will almost always browse through your product or service offerings at their own pace using their mobile phones and use the company contact details to make a purchase when they are ready. Your website is a valuable online tool for marketing your company online and should be used to its full potential.
If you're in a B2B setup, it is a way to reach out to other companies and give them a glimpse of what you can provide. By having business websites, you showcase your products and services to a customer in a convenient way.
There's no denying that a website is more effective when it looks good on mobile devices using a responsive design. This can attract and retain more prospects who are doing comparisons between you and your competitors on the go. Users will quickly connect with your company through the site as you build trust by providing them answers while they shop online.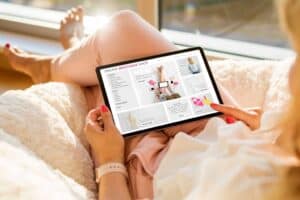 SEO Can Help
With the magic of search engine optimization, a potential customer gets to know your products or services if you appear on top of the search results. Multiple factors come into play on what makes them stay longer on your websites, but in general, you need to have:
impactful landing pages
remarkable web design
enticing marketing offers
spot-on calls to action
A typical salesperson clocks in and out of work, but your website will always be the glorified brochure to enlighten those who visit websites and eventually sell them your solutions. Small businesses don't need to be tied to specific business hours because potential customers can leave a message on your contact form.
Go Beyond Social Media
Social media marketing also works wonders for sales, but what if the user is taking their research to the next level by comparing local businesses for legitimacy? A Facebook or Instagram account will never replace the effectiveness of a customized website as long as there is competition in your market. The two complement each other, and should be used in tandem.
Be on the lookout for your website analytics on what page visitors frequent the most and how long they spend on your site. Google Analytics should have up-to-date data and insights into what's not working, and what content should be left unchanged.
Your Website Delivers a Consistent Sales Pitch
The best salesperson delivers the same sales pitch even when the audience they are talking to is not the same. Likewise, your website deserves to be your sales rep because it will consistently deliver the same message no matter who visits your website.
It's good to note that your brand should also invest in an excellent digital marketing team to produce relevant copy on your business pages.
Your Website Provides Educational Resources
We are all buyers of someone else's products. We go through a buyer's journey where we seek an answer to our curiosities online before we buy products or hire a service.
Your website is an excellent platform for educating your potential clients. It provides a convenient, centralized location for them to access information about your product or service and discover a compelling reason why they should trust your brand.
It relieves your sales team from explaining the essential things, and they are more focused on the things that matter.
Additionally, you can customize your website to target specific audiences and address their pain points in every part of their user journey. By using your website as a platform for education, you can more effectively reach and engage your leads, ultimately leading to increased conversion rate, sales, and profitability.
The most elite businesses use Google and the web to sell their products to the world. Whatever industry you belong to, you can make your website a powerful tool to be the best salesperson you could ever have.
At Direct Allied Agency, we help businesses gain site traffic and grow their business exponentially. We can do web design and development or robust marketing for your business.