You've got your website up and running, now what? If you want to make sure that it's always live and receives the required updates, you can opt for a monthly website maintenance package. These monthly WordPress services usually include site monitoring, updates, and development reviews which include in-depth support for the business website's codebase (for better performance), monthly WordPress website support, and updates (to keep everything up to date), security checks, search engine optimization, and more.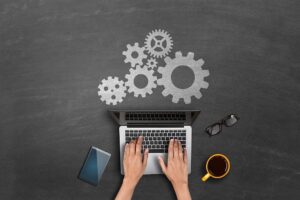 Why You Need Website Maintenance Services
Website maintenance is an important part of running a high-quality business site. It can help ensure that your website is available at all hours to people who want to visit it. If you want your website to run as smoothly as possible, this type of service will help with that.
Keeping a website up and running smoothly all depends on the quality of care that's provided for it, both in terms of maintenance and support. If you keep a strong eye on your website, you can identify potential problems before they become major issues. This will allow you to resolve these problems before they get out of hand. It's so important to make sure that any on-site issues that arise are taken care of quickly and efficiently.
A strong website maintenance service can help with this in a number of ways. This type of service focuses on making sure that your website is always running smoothly and providing its visitors with the best possible experience while visiting it.
Website Maintenance Plans Inclusions
A reputable company will always have your best interests at heart. When looking into website maintenance packages and pricing, make sure your maintenance packages include:
1. Regular WordPress Website Maintenance Services
These are the services that will be provided every month, on a regular basis, as needed. If you know that your website sometimes needs some minor troubleshooting, this may not be the best option for you. Instead, you may prefer to look at a professional maintenance package solution that offers a range of different offerings to suit your needs and wants. Typically, this includes:
Secure daily backup for all pages and content
Custom page and blog updates
Ecommerce plugin monitoring
Downtime, access, and performance report
2. Full-Service Web Maintenance Plan
If you want a professional support team working around the clock, then this full-spectrum websites maintenance is usually what you're looking for. This kind of package usually includes more services than just regular website maintenance. For example, these packages often include 24/7 monitoring, as well as proactive security measures. This is also where experts regularly update your website. This includes optimization for search engines, website design, and digital backups. This often includes:
Marketing and CMS
Hourly or per hour content updates and backups
Existing plugins support for your businesses
3. Business Website Security Checks
Security is important, not just for your websites, but for anything that you own that you want to protect and maintain. If you want a full security check and maintenance package, then look for a company that offers these types of services. These services can help protect your website and customers from potential threats and attacks from hackers.
4. Website Maintenance Services Industry Expertise
For the best results with your website maintenance plan, make sure it's provided by experts in the industry. Look for a company that has a strong background in providing world-class maintenance services. You should look for a provider with expertise in areas such as WordPress features, SEO, hosting, updates by the hour, website support and edits as well as free marketing calls per month.
Direct Allied Agency, Website Maintenance Packages, And More
Free up your hands by aligning yourself with website maintenance experts. Our team prides ourselves in creating and maintaining the perfect online presence for your business at a cost you're comfortable with. Each month that passes by without a streamlined customer browsing experience could cause you to lose clients.
Get started and keep your website in tip top shape by reaching us via email, phone call, or person today!