Just like growing an apple tree, search engine optimization takes patience and some seemingly fruitless endeavors for you to reap a lifetime's worth of harvests. In ranking your website in the search engine results pages, it takes a lot of SEO efforts to move the needle, and most business owners stop SEO because it can be slow or frustrating.
What happens if you stop pleasing the search engines? This article will share the most likely outcomes when you omit SEO as part of your digital marketing campaigns.
You'll Lose Keyword Growth Momentum
You hit different target keywords every time you consistently publish fresh content that satisfies other search intent as time goes by. You become an authority in your chosen niche once you prove to your audience that you know a lot, they can trust your website content, and you have a lot in store for them.
That is a robust SEO strategy, but stopping SEO activities means preventing your website from growing the keywords you want to rank for.
Web crawlers will prioritize more active sites, and treat your website like it never existed if you stop creating changes in your old content. It's also the same if you don't bother creating more landing pages (also useful for paid search or paid media in general) that target specific keywords.
True enough, you'll lose your competitive advantage. The people who win in the future of the web will be the ones with excellent landing pages that are converting traffic for less.
Prone to Technical SEO Issues
Sometimes, things go out of hand on a website. If you have a discontinued SEO campaign, you might miss some technical issues, such as a misconfigured txt file or broken links. There might be spammy links (bad links) that affect your page speed and user experience.
Some will scrape your content and keep the links in for their benefit- stealing your site rank and pushing you down to the website rankings. You get Google alerts from sites hacked by malware.
Also, you might accidentally put your development site into the index.
You should continue your SEO campaign and keep track of the multiple pages under your watch to stay technically correct.
Obsolete Site Content
Most websites ranking high on the Google search keep their content fresh and relevant through optimization. When you stop SEO, your content will look old and irrelevant. SEO helps in ensuring that your site is constantly updated.
Your audience will know whether you changed your company phone number, store address, or new business hours because of SEO.
When you refresh a page correctly, site visits will generally increase to that page 10% to 30%, sometimes more.
This is because Google sees the new text and the value it provides and wants to rank it higher.
Now, there are many ways to go about refreshing pages. Some of those include:
Adding FAQs to the page
Improving internal links to other articles
Updating information
Updating dates
Adding schema
Changing a page template
Stolen Key Pages and Content
If you just landed the first spot on search rankings and you want to stop SEO campaigns, then there's a possibility that other websites will produce stolen content.
When you have published valuable content (either a blog post or a video tutorial), some resort to negative SEO tactics and generate duplicate content, which can negatively affect your reputation.
If Google finds out, you may face a penalty for having duplicate content, which can decrease the traffic to your site and hurt your chances of being on the keyword rankings.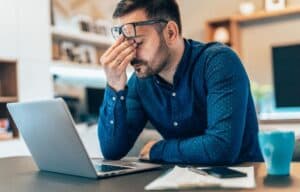 Harmful Links
Be aware of your backlink profile, so you don't have too many low-quality backlinks pointing toward your own site. You could be considered spammy by Google if many spammy sites link back to yours. Keep your link-building strategies as these links must be disavowed regularly, or they will harm your search engine rankings and lose more traffic in the future.
Left Behind by Google Algorithm Update
The Google algorithm has a life of its own and significant updates happen frequently, and a discontinued SEO campaign can do more harm than good. From a technical perspective, it's challenging to rank on search results if you are unaware of the important ranking factor you should watch.
It takes a constant checking of your Google Analytics dashboard and adjustment to know what works and what does not. What might bring organic traffic last month may not work in the following months- and keeping up with Google is the most effective way to implement it.
For this reason, you must stay on top of Google's algorithm changes and alter your SEO approach as necessary.
Earn More Links
Perhaps one of the most critical issues that arises is that your competitors could be continuing their SEO efforts and constantly building backlinks to their site. Google uses this metric as a ranking factor, and you can easily fall behind.
When you stop developing new pages, the number of links you naturally acquire decreases. You'll find it challenging to entice prospective audiences to your remarketing campaign, email list, or push notification list. You may miss out on possibilities to create hub pages if you discontinue producing valuable material. These are high-ranking master pages that link to all other pages on a topic. These pages will typically sit on top of the Google rankings. Furthermore, your other marketing campaigns may turn in the wrong direction because it becomes disjointed when it's not effectively showing up in search engines.
Tired of Monitoring SEO?
It's a long-term commitment to optimize your site, and we know how frustrating it is to wait to rank your business online. As part of our digital marketing efforts, we offer our SEO services for you to enjoy the ROI of pursuing SEO instead of being dampened by the cost of doing it. Let's have a chat.