Tulsa, the city that held the nickname "Oil Capital of the World" for most of the 20th century, is the second largest city in the state of Oklahoma. It is also the 45th most populous city in the United States and currently experiencing a growth spurt. 
About Tulsa, Oklahoma
You can enjoy bicycling, running, motor sports, going to parks and libraries, the aquarium and so much more. You can also go to the 84 acre Tulsa Zoo with 2,600 animals representing 400 species which is located in Mohawk Park. The city also hosts many state fairs and festivals that attract a lot of people, including one of the best Oktoberfest festivals in the south.
For food or cuisine, you most likely will not run out of options. Whether you're craving American fare, such as chicken fried steak, or tastes from other cultures like Cuban, Ecuadorian, Indonesian, Middle Eastern and even Burmese cuisine has a presence in the city. Tulsa is also known for its BBQ, which is unique because the wood used in BBQ-ing is abundant in Northeast Oklahoma, like pecan, maple and oak.
Tulsa, Oklahoma is also becoming more of a place for remote workers and digital companies because of the low cost of living, pleasant weather and all the booming businesses and trades in the city. Part of this "digital explosion" is the influx of new website design and development companies like Direct Allied Agency that are popping up in Tulsa. 
The demand for digital marketing is so high because every business needs a website to level the playing field with other competitors. A stunning and user friendly website with Search Engine Optimization can do a lot for a business especially now that most people are smartphone savvy and need answers at the tip of their fingers or in just one click.
We tried our best to make a list of the growing web design companies in Tulsa. Since we counted over 30 companies in town, we couldn't possibly mention them all. But here are some of the bigger players of the web design culture in Tulsa, Oklahoma;
WEB DESIGN COMPANIES LOCATED IN TULSA
Phillips360
is a group of innovators, creators, marketers, designers, developers, and customer oriented people. The company was started by Ryan Phillips working as a freelancer from home in 2008 and has since grown into one of Tulsa's leading providers of everything web related.
was founded in 2004, it originally specialized in developing custom software applications for small to mid-sized companies needing to automate operational processes. Over the years, the company has grown and evolved to include website design and digital marketing services to its customers.
Seed Technologies offers a wide diversity of technical expertise ranging from front-end web design to back-end software and database development.
Quantus Creative Marketing
is led by an experienced managing team of veterans with over 20 years of experience in digital marketing and web development. Their goal is to provide technology systems that work for you.
provides web design, internet marketing, social media, hosting, and custom development to businesses large and small that are looking to convert customers into sales and to broadcast their message more effectively. 
is an exceptional marketing firm, voted one of Tulsa's Best Advertising Agencies as well as one of Tulsa's Best Places to Work, and their clients trust them to deliver results. They have achieved those things by staying true to their belief that this job is about more than words and pictures: it's about finding your passion and infusing it into everything they create.
Owned by entrepreneur and visionary, Angela Byers, Byers Creative is a full design agency specializing in websites and graphic design, as well as social media. 
U-Thrive Marketing
takes a systematic approach to online marketing and drive all their strategies by proven methodologies. Their award winning graphic designers offer a variety of services from mobile & desktop web design to flyers, logos & other promotional materials. Their client's feedback over their years in business has always been that they provide affordable marketing solutions with a boutique national agency feel. 
StructureM
gives you a marketing framework that will simplify your job and help you grow your company. They believe your marketing should keep your sales team busy selling more and more jobs, and that you deserve to be a growing, profitable company.
Levo
is a virtual collective of doers, innovators, strategists and creators. They love to work with forward-thinking, marketing leaders who value outside perspectives, their deep understanding of corporate culture, creativity and good-old-fashioned strategy. Their primary purpose is to save you time, alleviate stress, and ultimately create results with scalable, multi-channel capabilities.
is a full service marketing & design agency. They have been building websites and creating marketing campaigns for over 10 years now. They have come across all kinds of issues and trends in the web design world, and know what works and what you need to have for a successful online presence.
Ambitious Web Services
is based in Tulsa, OK and was founded to provide businesses of all sizes with affordable, clean and effective design and internet marketing. Their website design firm is also dedicated to educating their customers on the many facets of getting a complete web site that works.
Visigility
is a full service digital marketing and web design agency in Tulsa, Oklahoma. They help small to midsize companies get more business online.
Symmetric Design
services are designed to send targeted traffic to your website and generate qualified leads to help grow your business. They are a small company that specializes in online marketing, web design, SEO and social media.
Hot Coffey Design
have blended together proven ways to get your project from idea to completion. They have developed an effective process that is derived from the perfect blend of brand development, creative design, search engine optimization, web development and social media.
Brookside Studios
was founded in the late 1990's, and raised in an era in which shortcuts didn't exist. If they wanted to learn something there were no YouTube tutorials or help forums, there were only a few dusty manuals and their own faculties. Growing as a business under these conditions instilled an attitude uncharacteristic of today.
They are now a full service digital marketing agency with the same ambitious and determined attitude they started with.
And last but not least…
focuses on affordable websites for small businesses which incorporate SEO best practices into the site.
By providing big city quality at small town prices, we can add value to the startup company, or small business by helping them compete in Google, while having a stunning modern website that is not only user friendly, but also original and editable.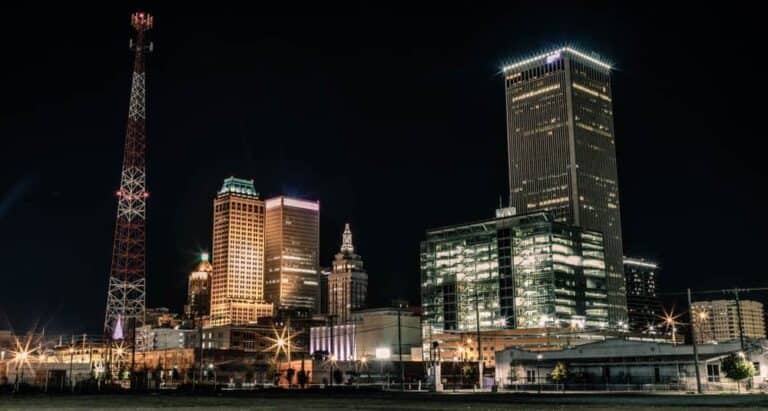 As you can see, Tulsa is pressing forward into the digital age by leaps and bounds. Website designers are abundant and competing, and seeing how many are on this list, it only shows that our city is moving forward and improving. 
We have certainly missed some companies in our small list, so if you feel a company should be spotlighted, please mention them in the comments below.