In the past few years, the SEO industry has changed dramatically. Search engines, such as Google, are constantly evolving due to new algorithm updates which depend on emerging technologies and user behavior.
The industry's volatility requires SERP ranking specialists to devote their undivided attention to these trends at all times to improve ranking factors. With so much happening in the digital world, you might be wondering what the latest SEO strategies are. Luckily, we've done the work for you! We compiled some of the hot SEO tools that can change the game for you in 2022.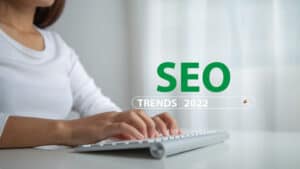 Top SEO Trends To Look For In 2022
Search engine optimization is still relevant and even more sophisticated in the coming year, especially in Google SERPS. Here are the most significant SEO tactics and techniques that you need to know as they are predicted to take center stage in 2022.
Multitask United Model (MUM)
MUM is a similar language model but significantly better than BERT. It helps Google discover and present more comprehensive answers for complex questions. This update can simultaneously process informative content from various web pages, thus providing more relevant content. Moreover, MUM aims to overcome format and language barriers to deliver better Google search results.
Page Experience Algorithm
The Core Web Vitals spans several signals as an evaluation of consumer behavior and experience. Its final rollout concludes that user experience offers a heavier ranking factor for mobile version and desktop version. Also, this update is not just about mobile-friendliness, but also an assessment of the loading page speed, organic traffic, and HTTP security.
Mobile-First Indexing (MFI)
After years of anticipation, Google starts to prioritize and dominate search rankings of mobile-friendly websites. Switching all high-quality content, keyword stuffing, and page titles to MFI and coupling this to other updates allow more focus on the user intent.
Better Featured Snippets
Featured snippets help index not just the whole web page, but also the individual passages from a particular website. This is useful for such queries and search results as they offer a high Google ranking. With users being more specific on how they phrase complex search queries, the snippets are seen to play a major role in the years to come.
Mobile Optimization
The use of mobile devices is a big focus for SEO experts, thus it must be given a lot of attention. User-friendly web design must be simple and personalized according to search intent and needs. Eventually, Google will ignore desktop sites and completely focus on mobile to determine rankings.
Voice Search
The use of voice has been slowly becoming a primary form of search. This increases the need for businesses to focus more on their digital marketing skills by translating written content to natural languages. The change in the vocabulary used may also be an opportunity for the business or brand to connect with their target audience values by creating content on a more personal level.
Video Marketing
Google announced the launching of two dedicated structured data to help video content show up on the results. Moving forward, platforms that host and analyze video may benefit from these two data markups. These will certainly increase the click-through rate of the optimized video content through the results page.
Optimizing SEO Strategy in 2022
A lot of improvements are being introduced to improve the website content quality for the desktop and mobile site. A digital marketer needs to adapt and evolve alongside these latest SEO trends.
If you think you need help in refining your content strategy, Direct Allied Agency is here for you! Located in Tulsa, OK, we provide expert SEO services when it comes to creating valuable content, featured articles, and even video descriptions for your website. All these are done to ensure optimum Google rankings at all times.