Every search engine optimization effort starts with extensive SEO keyword research. But surprisingly, many business owners don't know how powerful a thorough keyword research project can be in their long-term digital marketing strategies.
Learning a few keyword search tips from the six steps in this article will most definitely help you uncover some gold nuggets for your company's content and digital marketing strategy.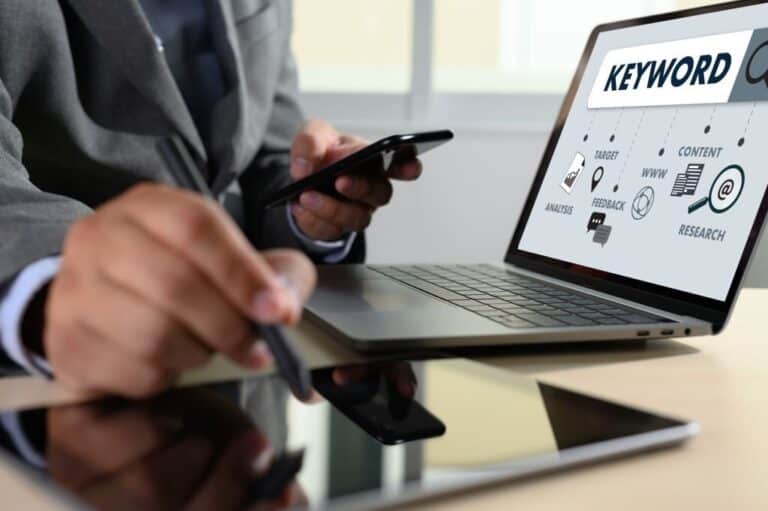 Why Is Keyword Research Important?
Researching your keywords before writing content is important because it not only adds structure to your content plan, but it's vital for knowing which high volume words and phrases to use when writing. You can better organize topics and address the needs of your visitors through comprehensive and well-stitched articles and valuable page content.
With the information you find about these most popular searched for terms, only then can you create the best web page titles, site titles, image tags and meta descriptions for your site.
The Six Steps
Take notes, test these methods and carefully implement the following strategies to understand how to leverage search volume to boost your website in the SERPS.
1. Consider What Main Products Or Services You Want To Rank For.
Begin your research by identifying what your primary products or services are that your target audience and search engines would associate with your website.
If you're a digital agency, highlight the most profitable services that you offer most frequently to your customers. Do you provide web design services or do you only offer social media marketing packages? Define it clearly.
2. Think Of A Relevant Keyword To That Product Or Service.
After identifying the main service that you want to rank for, think about the keywords that best describe your brand. Consider it your seed keywords, which will help you plan your keyword strategy and generate additional keyword ideas later on.
This is done to respond to the search intent of your target customers searching for a particular keyword in Google search results. So just think about what potential buyers would type in Google to find your business (NOT your company name).
Going back to our example above, if you want to be known as the best social media management and marketing company, jot down the seed keyword or a keyword phrase like "social media marketing agency" or "social media marketers".
3. Think About What Location/City/Country You Would Like To Rank.
Now that you have a specific keyword in mind, add a location to it.
This is an SEO strategy to narrow down search engine results related to the user's location. Moreover, adding location to your keyword phrases minimizes the scope of work.
To continue our example, it's much more targeted if we use a social media marketing agency in Oklahoma.
4. Use Keyword Tools For Your Own Keyword Research Process
After adding a location to your target keywords, it's time to verify whether it gains acceptable search traffic by using free keyword research tools or paid ones.
You can use Google keyword planner (a free tool included in the Google Ads suite) to check the exact search volumes of the chosen keywords related to your business. It gives you related keywords you might have missed.
Also, check Google trends and Google Analytics if you want to analyze the behavior of your keyword in search queries over time.
On the other hand, other SEO tools like Spyfu, Moz, Semrush, and Ahrefs can also simplify this step. You can use one keyword research tool or a combination of them to check keyword difficulty, domain authority, phrase match, and other data related to search terms.
Using the tool, copy and paste your chosen keyword and select the keyword with the highest monthly search volume. By doing so, you can verify whether you have chosen the best keywords or not.
5. Conduct Competitor Research
Check how your competitors are performing on their site's ranking by going to Google or other search engines and type in your keyword. Next, get the top 5 websites that rank for the same keywords.
After that, spy on the list of keywords they are ranking for. Include long-tail keywords and other related searches in the keyword list, then compile it into one spreadsheet.
Once done, categorize the search term you found on your competitors' websites into possible keywords, services, content, or pages.
6. Optimize Your Chosen Keyword
With a little clean up of your list, prioritize keywords that have low competition but higher organic search volume and treat them as your money keywords. Keep in mind the SERP features as you optimize your selected keyword. You can then create content, blog post, anchor analysis, and links with all this research you've done.
Track Your Data
Perform keyword research confidently with these six actionable steps, and always log your findings. At Direct Allied Agency, we help business owners address user intent and hit higher conversions using top-notch SEO strategies. Got questions? Feel free to reach out.